---
Sunday, January 16th at 11 AM:


"Martin Luther King, Jr.: An Appreciation"


with Charles Coe

Charles Coe will discuss how we might look beyond Dr. King's role as an historical icon to consider the relevance of his philosophy and strategies to our present-day struggle for social justice.

• Charles Coe is the author of three books of poetry: All Sins Forgiven: Poems for my Parents, Picnic on the Moon, and Memento Mori, all published by Leapfrog Press. He is also author of Spin Cycles, a novella published by Gemma Media. Charles is an adjunct professor of English at Salve Regina University in Newport, Rhode Island, and at Bay Path University, in Longmeadow, Massachusetts, where he teaches in both MFA programs. He serves on the Board of Directors of Revolutionary Spaces, Inc., The Advisory Board of The New England Poetry Club, and the Unitarian Universalist Magazine Editorial Board. Charles is also a member of the Steering Committee of the Boston Chapter of The National Writers Union, a labor union for free-lance writers and editors.
Music by Tem Blessed
Tem Blessed, whose full name is Temistocles Ferreria, is a hip-hop artist, environmental activist and author.
---
Friday Evening, January 21st at 7 PM:

"Eric Kilburn In Concert"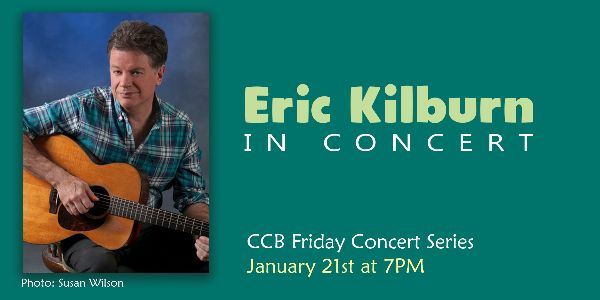 "Good Songs! We need humor badly! I've sent them the Sing Out."
– Pete Seeger
"Eric Kilburn is an accomplished mandolin player and singer. He played a number of songs, one about the proverbial midlife crisis as a parent that even contained a line about the book, Goodnight Moon. He led the way on some Django type gypsy jazz, in fact, he did a composition called "Django's Convertible" that was so good, so good so good. I tell ya, if you want to find men with big hearts, come hear this man and his friends."
– Kimmy Sophia Brown, Swans Island Sweet Chariot Festival
Eric Kilburn played extensively throughout the eastern United States in the late 80's and early 90's, and released 4 acclaimed albums.
He's played on Passim's stage over 40 times, both as a headliner and opening for the likes of Tracy Chapman, Shawn Colvin, Eric Andersen and others, He took a 26 year sabbatical from touring and active performing, taking time to raise a family,and record over 800 albums at his studio,Wellspring Sound. He recently decided to "stick his toe back in the pond" and begin performing as a solo act again, and is working on a new album of songs about growing up and parenting. Eric's songs have been covered by Arlo Guthrie, Fred Small, Sally Rogers, Priscilla Herdman, Lucie Blue Tremblay, and many others.
– Club Pasim
Winter Fridays is a concert series, hosted by The Community Church of Boston. Click on the link below to get your tickets. Although this is a FREE event, suggested donation is $20. We hope you will donate generously. You can buy tickets for this concert on Eventbrite, or make a donation. Or you can feed the Paypal Tipjar on the night of the show"….Remember that …ALL PROCEEDS GO TO THE PERFORMERS.
•
Jan. 21:
Eric Kilburn
•
Jan. 28:
Jacqueline Schwab
•
Feb. 4:
John and Rachel Nicholas
•

Feb. 11:
Geoff Kaufman
•
Feb. 18:
Danielle Miraglia
•
Feb. 25:
Open Mic with Dean Stevens
•
Mar. 4:
Ritt Henn & Beth Falcone
•
Mar. 11:
Suzy Williams and Brad Kay
---
---

---
Discourse by CCB MEMBERS & FRIENDS
Articles by Rev. William Alberts on CounterPunch
Quotes from Victor Wallis, Red-Green Revolution… by Victor Wallis
After the Mid-Term Elections by Mark Solomon
Global Inequalities, Local Remedies  by Rev. Dr. Norm Faramelli
What Would Gandhi Do? by David Lewit
Remembering Hiroshima with Consideration for its Current and Future Implications  by Virginia Pratt
A Eulogy for Hank Faunce by Edward Beuchert
Agelessness, Ageism, And Aging by Mary Lynn Cramer
The Limits of Liberal Rhetoric: Profits vs. Jobs by Mary Lynn Cramer
It's Time to Recall the Sub-prime Loans by Virginia Pratt

---
BOSTON AREA RESOURCES
For listings of regional peace and justice events, see the Act-MA list, the AFSC Weekly Calendar, Boston Indymedia, United for Justice and Peace, and Massachusetts Jobs with Justice's Resources; Centro Presente (Somerville), the Democracy Center (Cambridge), Encuentro 5 (Boston), Lucy Parsons Center (Jamaica Plain) and Spontaneous Celebrations (Jamaica Plain) also publish a 'calendar of events' hosted at their respective community spaces.
The Community Church of Boston has also compiled a Homeless and Low Income Resource Guide 2020 for those in need.
Sexually transmitted diseases in Suffolk County and Boston area rates tend to be higher than the national averages. For more information and resources for free testing in Boston contact these local health organizations.

***
Join us for Church services on YouTube or in person.
For a list of upcoming services & programs sign up for our newsletter here.
If you decide you'd like to join us on Sunday in-person, please wear a mask and practice social distancing.
All Programs are held on the second floor in the Lothrop Auditorium.
Small elevator, wheelchair accessible.
CCB is located near the Orange line-Back Bay or
the Green line-Copley T Stops.
On Street Parking and at Back Bay Parking Garage, 199 Clarendon Street.
Discount Vouchers available for parking in the garage.
Community Church of Boston is located at
565 Boylston Street, 2nd fl., Boston, MA 02116
web: www.communitychurchofboston.org;
email: info@communitychurchofboston.org; tel: 617-266-6710