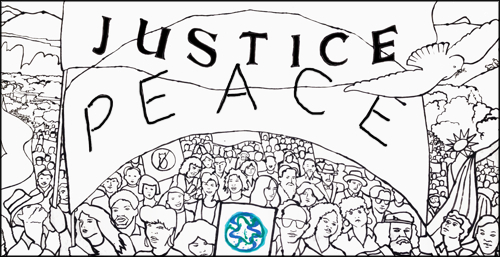 The Community Church of Boston is a free community united for the study and practice of universal religion, seeking to apply ethical ideals to individual life and the democratic and cooperative principle to all forms of social and economic life. We invite you to read on to discover more about us, join us one Sunday for a thought-provoking and joyful time, or contact the church to find out more about our community: info@communitychurchofboston.org
SUNDAY, March 1st: "The Immigrant Rights Movement at the Crossroads" with Gabriel Camacho
"For over a decade, the immigrant rights movement has been dominated by well-funded and politically connected campaigns for Comprehensive Immigration Reform (CIR). Despite its command over resources and access to influential politicians, CIR campaigns have been a consistent failure. In addition the content and messaging of CIR has been criticized by many grassroots organizations outside Washington DC including the AFSC. While CIR was doomed in Congress many grassroots organizations took up creative tactics including civil disobedience, local and statewide policy advocacy, and sanctuary churches. With mounting criticism on the President's detention and deportation policies, in 2012 Obama announced Deferred Action for Childhood Arrivals (DACA), an executive action that would provide work authorization and temporary relief from deportation for millions of undocumented youth who came to the US at age 16 or under. While deportations reached record levels, more pressure on the Administration lead the President in November 2014 to announce the expansion of DACA, and a new initiative Deferred Action for Parents of Americans (DAPA). Both of these initiative would cover close to 5 million undocumented persons. On the eve of the implementation of the new DACA and DAPA, a federal district judge in Texas issued a temporary injunction halting both initiatives."
Gabriel Camacho, Immigration Programs Coordinator for the American Friends Service Committee, will unpack the politics of Comprehensive Immigration Reform, explore posible litigation scenarios for DACA & DAPA, and provide insights into the future of the immigrant rights movement.
Followed by a friendly luncheon, all are welcome to stay. Music by Constellations.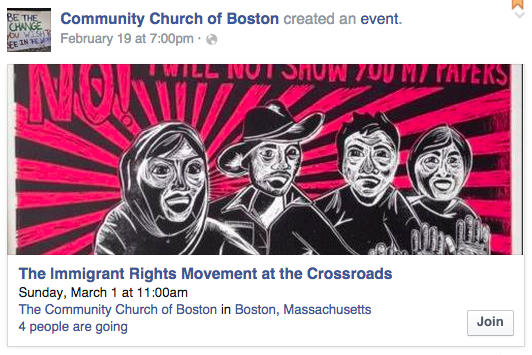 THIS WEEK AT COMMUNITY CHURCH
Tuesday, 2/24: Mass. Peace Action, "New European Initiatives for Palestine" talk, Lothrop Auditorium, 7pm
Wednesday, 2/25: BAGLY, Lothrop Auditorium, 5pm
Thursday, 2/26: Press Pass TV and Boston Youth Organizing Project, Lothrop Auditorium, 3pm
ANNOUNCEMENTS
The congregation of the Community Church of Boston strives to be a wise steward of both financial and natural resources. We are working to become more energy efficient, which will keep the congregation more comfortable, lower our energy bills and improve the energy efficiency of our building. Please consider making a donation to help us in our efforts: http://www.heetma.com/content/community-church-boston
READ and write reviews about the Community Church of Boston on YELP
WRITINGS BY CCB MEMBERS & FRIENDS
A Eulogy for Hank Faunce by Edward Beuchert
Agelessness, Ageism, And Aging by Mary Lynn Cramer
The Limits of Liberal Rhetoric: Profits vs. Jobs by Mary Lynn Cramer
It's Time to Recall the Sub-prime Loans by Virginia Pratt
BOSTON AREA RESOURCES
For listings of regional peace and justice events, see the Act-MA list, the AFSC Weekly Calendar, Boston Indymedia, United for Justice and Peace, Massachusetts Bay District of Unitarian-Univeralist Churches' Programs and Events, and Jobs with Justice's Workers Rights Calendar;  Centro Presente (Somerville), the Democracy Center (Cambridge), Encuentro 5 (Chinatown),  Lucy Parsons Center (Jamaica Plain) and Spontaneous Celebrations (Jamaica Plain) also publish a 'calendar of events' hosted at their respective community spaces.
The Community Church of Boston has also compiled a Boston/Cambridge Resource Guide for Homeless and Low-Income Individuals for those in need.
---