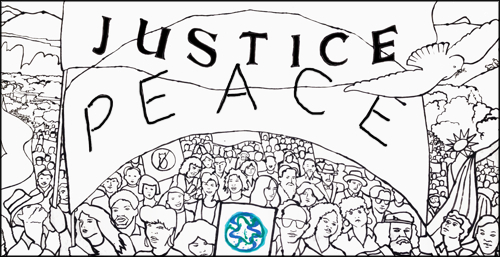 The Community Church of Boston is a free community united for the study and practice of universal religion, seeking to apply ethical ideals to individual life and the democratic and cooperative principle to all forms of social and economic life. We invite you to read on to discover more about us, join us one Sunday for a thought-provoking and joyful time, or contact the church to find out more about our community: info@communitychurchofboston.org
THIS WEEK AT COMMUNITY CHURCH
Mondays, 6/6: "Sweat the Floor" Hip Hop Intensive Exercise Class, Lothrop Auditorium, 6pm
Wednesday, 6/8: Boston Alliance of Gay Lesbian Bisexual Transgender Youth (BAGLY), Lothrop Auditorium, 5pm
Sunday, May 29th: "At the Ballot Box, In the Streets:
It's Time to Build The Mother of All Movements." with Mark Solomon

The Sanders electoral campaign, Black Lives Matter, the Movement for 15, the environmental upsurge, the defense of women's rights —all portend the emergence of a progressive majority. A converging movement of all progressive forces to set the country and the world on an irreversible path towards peace, justice, equality and security for all. How to build and nurture that convergence is the central topic of this talk.
Mark Solomon, Professor Emeritus of History at Simmons College, Boston holds a B.A. degree in History from Wayne State University, an M.A. in History from the University of Michigan and a Ph.D. in The History of American Civilization from Harvard University. He has written scores of articles on African American history, race and racism, U.S. foreign policy, globalization, and war and peace issues that have appeared in both scholarly and popular journals. Prof. Solomon has also traveled and lectured in Europe, Asia, and the Caribbean and has been a visiting lecturer at the Massachusetts Institute of Technology, Boston College and Humboldt University in Berlin. He has written or edited five books including The Cry Was Unity: Communists and African Americans, 1917-1936 (University Press of Mississippi) and edited and wrote of an extended Afterword for Victor Grossman's memoir, Crossing the River: A Memoir of the American Left, the Cold War and Life in East Germany (University of Massachusetts Press).
All are welcome to join us for lunch after the program.
---
Long-time CCB member, Gwen O'Brien has left us.
Funeral Service will be held on May 23rd at Davis Funeral Home in Boston.
For more information go to our Sundays page.
---
A recent article published in the New Yorker caught the attention of one of our members: "Break-In at Y-12: How a handful of pacifists and nuns exposed the vulnerability of America's nuclear-weapons sites." We'd like to share it with you below, just click on the image to read it.

---
The congregation of the Community Church of Boston strives to be a wise steward of both financial and natural resources. We are working together with HEET (Home Energy Efficiency Team) to become more energy efficient, which will keep the congregation more comfortable, lower our energy bills and improve the energy efficiency of our building.
---
READ and write reviews about the Community Church of Boston on YELP
WRITINGS BY CCB MEMBERS & FRIENDS
A Eulogy for Hank Faunce by Edward Beuchert
Agelessness, Ageism, And Aging by Mary Lynn Cramer
The Limits of Liberal Rhetoric: Profits vs. Jobs by Mary Lynn Cramer
It's Time to Recall the Sub-prime Loans by Virginia Pratt
BOSTON AREA RESOURCES
For listings of regional peace and justice events, see the Act-MA list, the AFSC Weekly Calendar, Boston Indymedia, United for Justice and Peace, Massachusetts Bay District of Unitarian-Univeralist Churches' Programs and Events, and Jobs with Justice's Workers Rights Calendar;  Centro Presente (Somerville), the Democracy Center (Cambridge), Encuentro 5 (Chinatown),  Lucy Parsons Center (Jamaica Plain) and Spontaneous Celebrations (Jamaica Plain) also publish a 'calendar of events' hosted at their respective community spaces.
The Community Church of Boston has also compiled a Boston/Cambridge Resource Guide for Homeless and Low-Income Individuals for those in need.