---
Sunday, January 30th at 11 AM:


"Reflections on the moment: From Covid to
War in Space…and lots in-between"

(from Crimea and Maine)
with Regis Tremblay & Bruce Gagnon

Bruce Gagnon & Regis Tremblay
• Bruce Gagnon is the Coordinator of the Global Network Against Weapons & Nuclear Power in Space. He was a co-founder of the Global Network when it was created in 1992. He is an author and has written many articles. Bruce is also has a blog called Organizing Notes and a local TV program in Maine called This Issue. He is a veteran and an active member of Veterans for Peace. Bruce's photo by Charles Jenks
• Regis Tremblay is a independent filmmaker living in Yalta, Crimea of the Russian Federation. His film, Ghost of Jeju chronicles the resilience of power of the people of Jeju are fighting for self-determination, basic human rights, an open and transparent democratic process, and the protection of this rare and beautiful environment.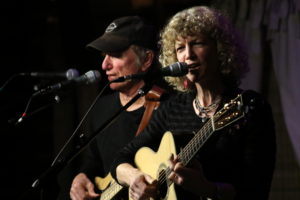 Music by Cosy Sheridan and Charlie Koch
---
Friday Evening, January 28th at 7 PM:


"Jacqueline Schwab In Concert"
From the soundtracks of Ken Burns' Grammy award-winning Civil War, Baseball, Mark Twain and many other PBS documentaries to the White House to the (recent) PBS American Roots special with the American Pops Orchestra, pianist Jacqueline Schwab is known for evoking the American musical past, but in a fresh, personal way. Her playing infuses the oft-aired soundtracks of Ken Burns' films, including his Grammy-winning Civil War, Baseball, Lewis and Clark, Mark Twain, The War and The National Parks, as well as the PBS documentary The Irish in America and others. She has performed at the White House for President Clinton, and she has accompanied Scottish singer Jean Redpath on public radio's A Prairie Home Companion and on CBS' Late Show with David Letterman. She has performed vintage American music on the solo concert stage in almost every state of the Union. In concert, Jacqueline often performs familiar old tunes, what Mark Twain would have called "remembrancers," but with her own stamp, and she speaks about the power of music to transport us into our own past and on to new horizons. Her newest solo recording, scheduled for 2022, is I Lift My Lamp—Illuminations on Immigrant America.
Jacqueline is looking forward to sharing her solo piano music with Community Church's community and beyond! On Friday, Jan. 28, she will perform The Passionate Pen—Protest Songs-without-Words. She will include lesser- and well-known pieces from Scotland, the US, Canada, Cuba, Chile, Greece and beyond, reflecting on freedom, peace and social justice.
Winter Fridays is a FREE concert series, hosted by The Community Church of Boston. The links to Zoom and YouTube are listed below. But we hope you will donate generously to THE PERFORMERS. You can buy a ticket from this Eventbrite page, or make a sliding scale donation. Or you can feed the Paypal Tipjar on the night of the show"….ALL PROCEEDS GO TO THE PERFORMERS.
•
Jan. 28:
Jacqueline Schwab
•
Feb. 4:
John and Rachel Nicholas
•

Feb. 11:
Geoff Kaufman
•
Feb. 18:
Danielle Miraglia
•
Feb. 25:
Open Mic with Dean Stevens
•
Mar. 4:
Ritt Henn & Beth Falcone
•
Mar. 11:
Suzy Williams and Brad Kay
---
---

---
Discourse by CCB MEMBERS & FRIENDS
Articles by Rev. William Alberts on CounterPunch
Quotes from Victor Wallis, Red-Green Revolution… by Victor Wallis
After the Mid-Term Elections by Mark Solomon
Global Inequalities, Local Remedies  by Rev. Dr. Norm Faramelli
What Would Gandhi Do? by David Lewit
Remembering Hiroshima with Consideration for its Current and Future Implications  by Virginia Pratt
A Eulogy for Hank Faunce by Edward Beuchert
Agelessness, Ageism, And Aging by Mary Lynn Cramer
The Limits of Liberal Rhetoric: Profits vs. Jobs by Mary Lynn Cramer
It's Time to Recall the Sub-prime Loans by Virginia Pratt

---
BOSTON AREA RESOURCES
For listings of regional peace and justice events, see the Act-MA list, the AFSC Weekly Calendar, Boston Indymedia, United for Justice and Peace, and Massachusetts Jobs with Justice's Resources; Centro Presente (Somerville), the Democracy Center (Cambridge), Encuentro 5 (Boston), Lucy Parsons Center (Jamaica Plain) and Spontaneous Celebrations (Jamaica Plain) also publish a 'calendar of events' hosted at their respective community spaces.
The Community Church of Boston has also compiled a Homeless and Low Income Resource Guide 2020 for those in need.
Sexually transmitted diseases in Suffolk County and Boston area rates tend to be higher than the national averages. For more information and resources for free testing in Boston contact these local health organizations.

***
Join us for Church services on YouTube or in person.
For a list of upcoming services & programs sign up for our newsletter here.
If you decide you'd like to join us on Sunday in-person, please wear a mask and practice social distancing.
All Programs are held on the second floor in the Lothrop Auditorium.
Small elevator, wheelchair accessible.
CCB is located near the Orange line-Back Bay or
the Green line-Copley T Stops.
On Street Parking and at Back Bay Parking Garage, 199 Clarendon Street.
Discount Vouchers available for parking in the garage.
Community Church of Boston is located at
565 Boylston Street, 2nd fl., Boston, MA 02116
web: www.communitychurchofboston.org;
email: info@communitychurchofboston.org; tel: 617-266-6710