WHAT'S HAPPENING AT CCB:
Abilities Dance Boston in Residence:
Abilities Dance Boston dance company is for dancers with and without disabilities. Their overall mission is to disrupt antiquated ablest beliefs and disseminate the value of inclusion through dance. They are currently in residence at Community Church of Boston. Their performing company of adult professional dancers with and without disabilities perform across the Boston area and beyond.
---
"Centroamericanos Speak: On Migration and Struggle"
with Members of the Central American News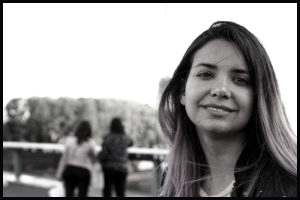 • Melissa Vida is a freelance journalist and filmmaker from Belgian and Salvadoran descent. Melissa has had her work published in The New York Times, Foreign Policy, World Politics Review and America Magazine and has been hired by the Katholieke Universiteit van Leuven (KUL) to produce a documentary on St. Oscar Romero's legacy in El Salvador. She is also the founder and editor of the weekly newsletter Central American News, which is followed by 500+ journalists, researchers and public officials. She hones a bird's-eye view on Central America as a region and specializes in El Salvador, for which she works as a consultant for government institutions.
Music by CommUnity Voices
---
Sponsored by Boston Area Assange Defense, Mass Peace Action,
Boston May Day Coalition, and Community Church of Boston.
Contact: 617-501-9125, SusanBMcL@gmail.com or Paula Iasella, 603-809-3102 AssangeBoston@gmail.com
Remembering Rev. Bill Alberts:
More about Rev. Alberts & to leave your condolences visit Legacy.

Bill Alberts is gone from us. Gone to his well deserved rest. You will be missed, Rev. Alberts. We send our deep condolences to Eva, Bill's wife, Amy, Bill and Eva's daughter, and to their grandkids and family.
Bill was minister at The Community Church of Boston from 1979 to 1990. Defrocked in 1974 from the Methodist Church for performing a same-sex wedding, Bill was way ahead of his time, and our CCB church leaders took that rejection from that mainstream Protestant denomination as a badge of honor, and hired Bill to be our minister. His time here is amply documented in our archives. The man was a prolific and sharp tongued writer in our newsletters, and in many publications, magazines and newspaper opinion pages. His sermons were gems of lovingly radical rebellious thought translated into action. You can find a wealth of Bill's later writings at the online magazine Counterpunch. There is a thick compilation in book form of his Counterpunch articles. There is also a beautiful memoir, "A Hospital Chaplain at the Crossroads of Humanity" of his decades after CCB in the chaplaincy at Boston Medical Center. And dare we forget "the minister who could not be "preyed" away", a memoir about his troubles with the Methodist Church, culminating in a successful lawsuit against his psychiatrist and the Methodist Church. Bill's opinions about organized religion, global imperialism, American exceptionalism and Boston racism, are truly gems for our movement for Peace and Justice. On this, the day
Monseñor Romero was murdered 41 years ago, we say a fond good-bye to Rev. William Alberts.
You can find all of the above mentioned books in our library here in Copley Square.
Monseñor Romero, PRESENTE!
Bill Alberts, PRESENTE!
CounterPunch articles by Rev. Alberts
The Messiah Awaits Our Coming…to the Realization That no Messiah is Coming to Save Us 1/4/21 by Amy Eva Alberts Warren/Rev. William Alberts
Democracy is Colorful, Not Colorblind  10/30/20
Christianity: Empathy Versus Evangelism   9/7/20
Why are Certain Christians Democratic and others Authoritarian? 7/3/20
by Amy Eva Alberts Warren/Rev. William Alberts
Trump's Desperate, Despicable, Diversions 6/18/20
Finally a Christian Call for Trump's Removal 1/17/20
Whistleblowing Religion 11/20/19
Myopic Morality: The Rehabilitation of George Bush 10/21
Beware of the Gun-Lover-in-Chief 8/23/19
America's Respectable War Criminals 6/21/19
Authoritarian Christians 6/5/19
The Militarization of Empathy 5/9/19
Open Tombs and Resurrecting Lives 4/29/19
The Invisible Protection of Whiteness 3/29/19
---
Discourse by CCB MEMBERS & FRIENDS
Quotes from Victor Wallis, Red-Green Revolution… by Victor Wallis
After the Mid-Term Elections by Mark Solomon
Global Inequalities, Local Remedies  by Rev. Dr. Norm Faramelli
What Would Gandhi Do? by David Lewit
Remembering Hiroshima with Consideration for its Current and Future Implications  by Virginia Pratt
A Eulogy for Hank Faunce by Edward Beuchert
Agelessness, Ageism, And Aging by Mary Lynn Cramer

The Limits of Liberal Rhetoric: Profits vs. Jobs by Mary Lynn Cramer

It's Time to Recall the Sub-prime Loans by Virginia Pratt
---
BOSTON AREA RESOURCES
For listings of regional peace and justice events, see the Act-MA list, the AFSC Weekly Calendar, Boston Indymedia, United for Justice and Peace, and Jobs with Justice's Workers Rights Calendar; Centro Presente (Somerville), the Democracy Center (Cambridge), Encuentro 5 (Boston), Lucy Parsons Center (Jamaica Plain) and Spontaneous Celebrations (Jamaica Plain) also publish a 'calendar of events' hosted at their respective community spaces.
The Community Church of Boston has also compiled a Homeless and Low Income Resource Guide 2020 for those in need.
Sexually transmitted diseases in Suffolk County and Boston area rates tend to be higher than the national averages. For more information and resources for free testing in Boston contact these local health organizations.
Due to Covid-19 Community Church of Boston is closed.
All Programs are held on the second floor in the Lothrop Auditorium.
Small elevator, wheelchair accessible.
CCB is located near the Orange line-Back Bay or
the Green line-Copley T Stops.
On Street Parking and at Back Bay Parking Garage, 199 Clarendon Street.
Discount Vouchers available for parking in the garage.
Community Church of Boston is located at
565 Boylston Street, 2nd fl., Boston, MA 02116
web: www.communitychurchofboston.org;
email: info@communitychurchofboston.org; tel: 617-266-6710