A Brief History of the Community
Church of Boston
by Rev. Peter T. Richardson
While its first leader was a Universalist, Community Church was set up "that thereshould be 'no denominational' nor even 'Christian sectarians' among us." (1) The slogan, "Religions are many but religion is one," set the tone from the beginning. (2) The founder of the church was Clarence Skinner, dean of the Tufts School of Religion, a Universalist school. Skinner was author of several important books for twentieth century liberal religion: The Social Implications of Universalism, A Religion for Greatness, and Worship and the Well Ordered Mind. While the church was nonsectarian, it eventually affiliated with the Unitarian Universalist Association in 1968.
In its first seven years the church built its core membership and identity, preparing it for the major venture of worship in Symphony Hall beginning in 1927. Major motivation came from post war shock and disillusion requiring "the task of building a new social order out of the wreck left by the World War." (3) John Haynes Holmes, who had earlier founded New York's Community Church, was a valued consultant in the early years and preached monthly as did John Herman Randall. The vision of a free community pulpit, with a faculty of ministers and "cooperative specialists" was reinforced by a forum following worship attended by upwards of a third to half those who attended.
Skinner observed, "if the church had cultivated the forum idea centuries ago, it would have spared itself an amazing amount of error." (4)Â  And in creating a pulpit not dominated by ministers, but leaders in many fields, concurring with Emerson the church avoided, "the effect of professionalization upon the human mind"(5)
Clarence Skinner carefully described the theory of worship for the new church, "so that it is not out of harmony with either the facts or the spirit of modern life." (6)  An invocation would set the tone and theme of the morning, "clearly in non-mystical language… announcing at the outset of the service a modern point of view freed from superstition."  Hymns were revised for, "the sensibilities of modernized minds," with heavy reliance on a collection, Social Hymns, by Mabel Mussey.  Choral music was a great unsolved obstacle at the resources and personnel were culturally bound to a Western and ecclesiastical repertoire.  Readings were from, "the entire field of human thought," ancient and modern.  To the critics Skinner replied:
"… the Boston Community Church feels that truth and inspiration are their 'own excuse for being' and that no ecclesiastical authority or sanction is necessary for reading which lifts the spirit, catches fire in men's hearts, and reveals some noble reach of imagination" (7)
Skinner opposed petitionary prayer advocating instead, "prayer-aspirations" illumining "a setting of infinity or an opening toward the universal."  Worship was to provide, "an atmosphere about the services which is not only spiritually refreshing, but intellectually stimulating and broadening." (8)
The Statement of Purpose and Membership Covenant clearly mark out the vision and mission of the church.  The Community Church is a free fellowship of men and women united for the study and practice of universal religion, seeking to apply ethical ideals to individual life and the cooperative principle to a ll forms of social and economic life.  We, the undersigned, accepting the stated Purpose of this Church, do join our selves together that we may help one another, may multiply the power of each through mutual fellowship, and may thereby promote most effectively the cause of truth, righteousness, and love in the world. (9)
In 1927 the church moved its worship to Symphony Hall, drawing 1800 on the first Sunday, sometimes filling it to its 2600 capacity, averaging above 1200, at least through 1930. (10)  It is safe to say there were thousands in its constituency through its several moves in large rented spaces, but that in recent years its core membership is under 100 and attendance smaller still on most Sundays.  Its constituency was global, multi-religious, multi-ethnic and multi-racial long before the Civil Rights Movement brought the issue before the general public.
At the beginning a social justice committee was at the core of the Community Church vision.  For example, a founding member, Gertrude L. Winslow, was active in opposition to the execution of Sacco and Vanzetti.  This central strength has continued to the present.
Donald Lothrop became leader of the congregation just as fascism was on the rise in Europe.  Quickly he shared his alarm at Hitler's treatment of Jews long before the American Press began coverage after Pearl Harbor.  He pointed out the stakes for democracy as Franco fought the Spanish Republic.  In this and other issues involving nationalism, Nicaragua, and Vietnam for example, he pointed out how American policies drive native aspirations into the laps of our enemies.  As the Second World War loomed ahead he supported American involvement much to the chagrin of the pacifist members of his congregation.
But he opposed vigorously American involvement in both Nicaragua and Vietnam.  Very early in 1962 he and 15 others took out an ad in the New York Times urging the Kennedy administration not to become militarily involved in Vietnam.  When two FBI agents visited his office with questions he reported his reply:  "I told the two agents that it was none of their business, and to get the hell out of my office."(11)
Lothrop was a solid opponent of Senator McCarthy and the waves of communist scares which swept the country.  He was accused of being, "under Communist Party discipline," to which he replied that the accuser was employing, "the weasel trick of a coward," not actually accusing him directly of being a Communist. (12)  When a Massachusetts legislative committee required him to testify on the charge that he had given comfort and aid to Communists he replied:
"Gentlemen, I plead guilt to this charge.  I have given aid and comfort to all kinds of people, black and white, Jew and Gentile, Catholic and Protestant, Mohammedan and Buddhist, rich and poor, capitalist and communist, democrat and anarchist.  I have never selected those who use my ministry nor have I ever refused.  My examplar is one, Jesus of Nazareth, who feared not to associate with and minister to prostitutes, thieves, and tax-gatherers.  He believed in virtue by association, not guilt by association.  I am proud that over the years our people have been witnesses to the faith of the American people and that we have been willing to listen to, and provide a platform for, countless men and women who are debarred elsewhere.  Our country needs voices of dissent, diversity and daring.  It is the stuff out of which progress is made.  It is insurance against complacency and error which lead all closed societies to their graves." (13)
For those who cannot understand the distinction between pulpit utterances and beliefs held by leaders and members of a liberal church, Lothrop replied with a principle which has characterized this church's entire history, "The pulpit is not to be agreed with.  The point is to expose members to competent people.  We try to stimulate, instruct." (14)
In 1946 the Community Church Center was purchased, strategically located in Copley Square.  This gave the core congregation valuable office, meeting, and worship space as well as income from a street level store front.  For a church founded by pacifists and known for controversial speakers it was important to have a relatively secure fall-back location.  For parts of the years in early fall and late spring, the Center was used for worship, from 1977 to 1986.  Since 1988, Sunday meetings have wholly been held at the Center.  Perhaps the age of theater worship is behind us or perhaps a small core is gathering at Copley Square for another foray into starkly public ministry.
Despite its notoriety, Community Church has always operated on a shoestring.  When Lothrop returned in 1995 to share some reflections on his 39 years as their minister, he may have revealed the secret for sustaining a radical ministry:
"When I retired in 1975, after almost 40 years, my salary had not reached $7,000 a year – you know that it is a good thing you didn't pay me too much because  I would have been afraid of losing it, and i would have gone around with my tail tucked between my legs.  But I was free to write my own ticket and shoot my mouth off, and I was making as much controversy as anybody else – that is a choice that I made." (15)
---
NOTES:1 Holmes, I Speak for Myself, New York: Harper & Broithers, 1959, p. 227. 2 Lothrop, Donald G.,
"Some Highlights in the Story of the Community Church: Memories of 39
Years (1936-1975)," Boston: Community Church, 1995, p. 1. 3 Skinner,
Clarence R., A Free Pulpit In Action, New York: MacMillan, 1931, p. 2. 4 Skinner, p. 8. 5 Skinner, p. 7. 6 Skinner, pp. 9-16. 7 Skinner, p. 13. 8 Skinner, p. 6. 9 Sunday Program, The Community Church of Boston (Non-Sectarian) Symphony Hall, Sunday, January 11, 1942, pp. 1, 3. 10. Skinner, p. 4. 11
Sunday  April 28, 1985, Tenth Annual Sacco-Vanzetti Memorial Award For Contributions to Social Justice, Boston: The Community Church of Boston, p. 6. 12 Paulson, Michael, "Activist Minister Worked Tirelessly for Leftist Causes,"
Boston Globe, 2/22/2002, p. B5. 13 Peltier, Roger C., ed., e mail, "In
Memoriam: Rev. Donald G. Lothrop," Boston: Mass. Bay District, UUA,
3/2/2002, p. 2. 14 Paulson, p. B5. 15 Lothrop, p. 3.
---
Leaders of the Community Church of Boston
1920-1936 Clarence Russell Skinner
1936-1974 Donald G. Lothrop
1975-1978 Philip Zwerling
1978-1991 William E. Alberts
1991-1993 Jack Mendelsohn (interim)
1993-1996 Timothy Anderson
1998-2005 David Carl Olson
2005-2012 Jason Lydon
2012-2014 Linda Jenkins
---
Selected Speakers in "The Free Pulpit in Action" of the Community Church of Boston
Rabbi Barnett Brickner
Lewis Browne
Stanton Coit
John H. Dietrich
W. E. B. DuBois
Will Durant
Harry Emerson Fosdick
Ernest Hocking
John Haynes Holmes
Martin Luther King, Jr.
J. Krishnamurti
Lynne Stewart
Kirtley Mather
D. G. Mukerji
Sarojini Naidu
Reinhold Niebuhr
Vijaya Laksmi Pandit
Frances Perkins
Angela Davis
Paul Tillich
Rabbi Stephen Wise
---
Meeting places of the Community Church of Boston Sunday Service and Speakers Forum
1920 Steinert Hall
1924 Copley Theatre
1927 Symphony Hall
1942 Jordan Hall
1949 John Hancock Hall
1953 Boston Conservatory Auditorium
1968 New England Life Hall
1973 Boston Conservatory Auditorium
1974 New England Life Hall
1974 Morse Auditorium
1977 Theodore Parker Unitarian Church (jointly)
1977 Morse Auditorium
1988 Wentworth Institute Annex
1988 Community Church Center
---
From the Community Church of Boston Archives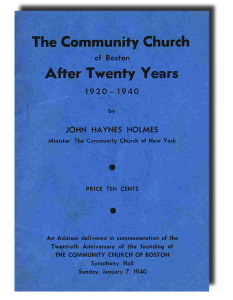 The Community Church of Boston After Twenty Years 1920-1940
by John Haynes Holmes