Sunday Services
From September through June, we have Sunday services for individuals seeking to grow their involvement in a welcoming and family-friendly community fully rooted in justice work. Our 11:00 am Speakers Forum is a time to hear from inspiring and thought-provoking speakers around social justice topics. Music adds a wonderful dimension to the service, and the musicians vary from week to week. We leave time for dialogue with our speaker before gathering at 12:45 pm for lunch.
Membership Sunday
On the first Sunday of each month, we celebrate individuals who wish to become members of Community Church of Boston. We take time during the 11:00 am service when individuals can, as they desire, come forward and sign our Membership Book – a brief yet purposeful ritual symbolizing a commitment not only from the individual to the congregation, but also from the congregation to the individual.
UPCOMING 2020 SERVICES & EVENTS:
---
Sunday, April 25th at 11 a.m.:
"Conscience of the Radical:
Scott & Helen Nearing's 20th Century Odysuess"
with Greg Joly
This talk will explore Scott's role in the birth of Acedemic Freedom for educators, his 1919 Federal Sedition trial for anti-war writings, and his progressive stance on economics, social justice and Black lives. Also covered will be how Scott & Helen intregrated their ecologically-based homesteading and maple syrup business with their intellectual pursuits and social activism.
• Greg Joly homesteads with his partner on 20 verticle Vermont acres in the same town the Nearing's began their Vermont experiment, 90 years ago! He is a carpenter, stone mason, sawyer, letter-press printer depending on the day's weather. For the past 30 years he has been collecting, interviewing and writing about the Nearing's. Since 1997, he has been on the Board of Stewards at the Good Life Center in Harborside, Maine (the Nearing's last stone house) and has also served as Board Chair while continuing his international duties as Chair of the Publication Committee.
music by Dean Stevens & Rob Flax
---
Sunday, May 2 at 11 a.m.:
"Encore: The Red & Green of May Day"
with Judith Woodruff"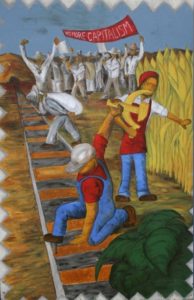 May day is recognized around the world as a holiday of celebration and appreciation of working people. Originally it was a springtime fertility festival whose origins go back far into the ancient world. It is known for its May poles, dances, floral wreaths, fertility rites, and general rejoicing along with days off from work. This program will explore how May Day came to be the working class holiday by 1894; a remembrance of the Haymarket martyrs' struggle for the eight hour day; and is now a day of world wide working class demonstrations with efforts to make it a legal American holiday, as it is in most of the countries of the world.
• Judith Woodruff, BA and MA in History and Education, has been an educator and community activist in both New York and Massachusetts.. She was a teacher in special projects of the NYC school system and a director of Early Childhood centers in Brooklyn, NY and later in Brookline, Ma. She was the Director of Place Runaway for teenagers and was a consultant tor Northeastern University for the development of a Boston day care center. She was also the Childcare Coordinator for the city of Somerville. Judith has created as well as lead many programs that bring artists from all disciplines together with community locally and internationally. Currently, Judith works with Families Creating Together and is currently serving on the Community Church of Boston Board.
music by David Rovics
---
Sunday, May 9 at 11 a.m.:
"Storytellers for a Small Planet"
with Andy Davis, Judith Black and Jackson Gillman
• Andy Davis lives in the southeastern corner of New Hampshire's White Mountains. For 21 years, he and his wife Andrea Walsh have co-directed the World Fellowship Center, an historic educational family camp and retreat center dedicated to peace and social justice. Andy's "narrative activism," magical realism, and multicultural folklore has been experienced by audiences from Paris to Bamako to San Diego.
• Jackson Gillman has been a featured teller at the National Storytelling Festival four times, and four times Teller-in-Residence at the International Storytelling Center. He also performs at regional festivals throughout the country. Many are nature-oriented and include much song, movement and sign language.
• Judith Black, one of America's foremost storytellers, retelling history from new perspectives, tickling familial dysfunction, offering ironic explorations of aging, and most recently turning her skills towards our disrupted climate. Among her many awards, she was featured twelve times at the National Storytelling Festival and on stages from the Montreal Comedy Festival to the Art Museum of Cape Town, SA.
---
Sunday, May 16 at 11 a.m.:
"Reinventing how we tackle Hunger"
with Katie Martin
COVID has increased food insecurity and exposed systemic inequalities. Learn about a new book that provides inspiration and action steps for reinventing how we tackle hunger in the U.S. The key is shifting our focus from a lack of food to strategies that build empathy, equity, and political will.
• Katie Martin, PhD, is the Executive Director of the Institute for Hunger Research & Solutions at Connecticut Food Bank-Foodshare. She is recognized as a thought leader on food security issues, and has over 25 years of experience developing and evaluating holistic solutions to hunger. Katie is the author of "Reinventing Food Banks and Pantries: New Tools to End Hunger"
Music by CommUnity Voices
---
Sunday, May 23 at 11 a.m.:
"The Sweet Chariot Music & Arts Festival"
The Sweet Chariot Music and Arts Festival is a wild gaggle of songwriters, musicians, divas and divos, poets storytellers and artists who meet for a week each summer on an island off the Maine Coast and deliver three nights of inspiration to a rapt audience in the funkiest hall you've ever stepped into. They've been doing this for over 30 years, and keep coming back for more, except when a virus requires an involuntary sabbatical. Now they're rarin' to go, and will give you a sneak preview, in celebration of one of their member's birthday (Dean), and in fond memory our beloved Kathleen Dinan. Join us!
Music by
Eric Kilburn, Lisa Redfern, Dean Stevens, Ritt Henn, Beth Falcone, Daisy and Stan, Geoff Kaufman, Suzy Williams, John and Rachel Nicholas, David Dodson, Mary Kate Small…and many more….in other words way too many to fit in one service, but who even cares??
---
Sunday, May 30 at 11 a.m.:
"Film: Child's Play"
with Michael Sheridan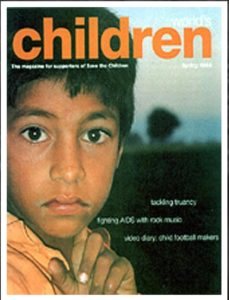 Four children in Sialkot, Pakistan, introduce us to their daily lives and tell us why they work stitching soccer balls. The film argues that to eliminate child labor, viable economic options must be created so that parents can afford not to have their children work. Produced for Save the Children Fund-UK and shown at the United Nation's International Conference on Child Labor and at the British Sports Apparel Industry's annual conference. The film helped change policy and raised 1.2 million dollars for Save the Children's Sialkot program.
• Michael Sheridan is a filmmaker whose videosonic art and documentary work addresses issues of social development and the tipping point between order and chaos. … In the 90s he started traveling the world producing documentaries on issues of hunger, poverty and community development.
---
---
---
°°°

January 10 – March 14, 2021 below:
Watch last Sunday's service and more
Sunday, April 18th at 11 a.m.:
"Deadly Secrets, Corporate Corruption
and One Man's Search for Justice"with Carey Gillam
°°°
Sunday, April 11th at 11 a.m.:
"A Spring Murmuration of Poets"with The Poets' Theatre
°°°
Sunday, April 4th at 11 a.m.:
"Capitalism as Problem, Cooperation as Solution:
An Economics Perspective"
with Richard Wolff
music by Tim Ray & Dan Greenspan
°°°
Watch: CCB Virtual Film Screening: Gaza Fights For Freedom
by Filmmaker Abby Martin
Tuesday, March 16, 2021 at 7PM
Remembering Rachel Corrie on the Anniversary of her Death
After the film join us for comments and a Q & A with Abby Martin
***
Due to Covid-19 Community Church of Boston is closed.
Every Sunday lunch or refreshments served after the program.
All Programs are held on the second floor in the Lothrop Auditorium.
Small elevator, wheelchair accessible.
CCB is located near the Orange line-Back Bay or the Green line-Copley T Stops. On Street Parking and at Back Bay Parking Garage, 199 Clarendon Street. Discount Vouchers available for parking in the garage.
Community Church of Boston is located at
565 Boylston Street, 2nd fl., Boston, MA 02116
web: www.communitychurchofboston.org;
email: info@communitychurchofboston.org; tel: 617-266-6710