Sunday Services
From September through June, we have Sunday services for individuals seeking to grow their involvement in a welcoming and family-friendly community fully rooted in justice work. Our 11:00 am Speakers Forum is a time to hear from inspiring and thought-provoking speakers around social justice topics. Music adds a wonderful dimension to the service, and the musicians vary from week to week. We leave time for dialogue with our speaker before gathering at 12:45 pm for lunch.
Membership Sunday
On the first Sunday of each month, we celebrate individuals who wish to become members of Community Church of Boston. We take time during the 11:00 am service when individuals can, as they desire, come forward and sign our Membership Book – a brief yet purposeful ritual symbolizing a commitment not only from the individual to the congregation, but also from the congregation to the individual.
UPCOMING 2020 SERVICES & EVENTS:
---
Sunday, May 31 at 11:00 am
"Treasures from CCB's Archives"
with Dean Stevens
Watch it Live on CCB's YouTube Channel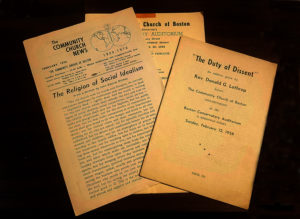 On the occasion of Community Church's One Hundredth Anniversary, we will take a tour of a century of our record of documents, bulletins, brochures, publications, newsletters and meeting minutes. What a story there is to tell! Let's not only reminisce, but even more, let us be inspired by who we are, where we've been, and where we're headed. 
Music by Rob Flax
Rob Flax is an award-winning multi-instrumentalist, composer, and educator from Evanston, IL with a playful heart and an open mind. … As a composer Rob has written music for choreographers, film (including work on the soundtrack of James Franco's film As I Lay Dying), and several original projects. Listen to Rob's music here.
---
Sunday, June 7 at 11:00 am
"In Concert with Eliza Gilkyson"
• Eliza Gilkyson is an Austin, Texas-based folk musician who is a two-time Grammy Award nominee for Best Contemporary Folk Album in 2004 and Best Folk Album in 2014. Eliza presents a vibrant spontaneous mix of storytelling with self-effacing humor and tenderness, within a wide-ranging spectrum of human experience, from intimate love songs to political diatribe,on stage she is accompanied by some of the best players in the world. Her 2020 album released in April is a collection of politically charged anthems designed to motivate, reflect and inspire action during what may be the most vital American election of our lifetime.
Photo: Todd Wolfson
---
Sunday, June 14 at 11:00 am
"CCB Annual Meeting"

---
---
Sunday, April 12 at 11:00 am
"What You Always Wanted to Know About
Russia but Were Afraid to Ask"


with Ray McGovern
°°°
 Sunday, April 19 at 11:00 am


"The Two Worst Ways To Make Policy:  Constitutional Originalism and Biblical Literalism

"


with Barry Lynn with music by Catie Curtis
°°°
 Sunday, April 26 at 11:00 am


"What is climate change and how can we stop it?

"


with Dr. Richard A. Rosen with music by Paul Kaplan
°°°
 Sunday, May 3 at 11:00 am


"

The Red & Green of May Day"
with Judith Woodruff  with music by
Mat Callahan and Yvonne Moore
(from Switzerland)
°°°
Sunday, May 10 at 11:00 am
"Lavender, Frankincense and Myrrh:
The Healing Capacity of Mothers"
with Adrienne Berry-Burton with
music by Joyce Andersen
°°°
Sunday, May 17 at 11:00 am
"Witness for Peace NE Organizer Lee Schlenker:
Popular Struggles in Latin America Today"

with Lee Schlenker with music by Dean Stevens
°°°
Sunday, May 24 at 11:00 am
"Green Burial: The Environmentally Friendly Option"
with Judith Lorei with music by David Dodson
---
---
POSTPONED
Saturday, March 21 at 7:00 pm


A CCB's 100th Anniversary Event:




Fulani Haynes Jazz Collaborative Concert




with Fulani Haynes, vocals; Earl Lawrence, Sax & Flute;
Michael Shea, Keyboards, Piano; Alvin Terry, percussion; Cornell Coley, percussion; Cyril Chapman, saxophone; and Dave Zox, Bass
Tickets: $20
Sliding scale: No one will be turned away, space permitting!
---
Due to Corvid-19 Community Church of Boston is closed.
Every Sunday lunch or refreshments served after the program.
All Programs are held on the second floor in the Lothrop Auditorium.
Small elevator, wheelchair accessible.
CCB is located near the Orange line-Back Bay or the Green line-Copley T Stops. On Street Parking and at Back Bay Parking Garage, 199 Clarendon Street. Discount Vouchers available for parking in the garage.
Community Church of Boston is located at
565 Boylston Street, 2nd fl., Boston, MA 02116
web: www.communitychurchofboston.org;
email: info@communitychurchofboston.org; tel: 617-266-6710