Sunday Services
From September through June, we have Sunday services for individuals seeking to grow their involvement in a welcoming and family-friendly community fully rooted in justice work. Our 11:00 am Speakers Forum is a time to hear from inspiring and thought-provoking speakers around social justice topics. Music adds a wonderful dimension to the service, and the musicians vary from week to week. We leave time for dialogue with our speaker before gathering at 12:45 pm for lunch.
Membership Sunday
On the first Sunday of each month, we celebrate individuals who wish to become members of Community Church of Boston. We take time during the 11:00 am service when individuals can, as they desire, come forward and sign our Membership Book – a brief yet purposeful ritual symbolizing a commitment not only from the individual to the congregation, but also from the congregation to the individual.
UPCOMING 2021 SERVICES & EVENTS:
---
Sunday, May 16 at 11 a.m.:
"Reinventing how we tackle Hunger"
with Katie Martin
COVID has increased food insecurity and exposed systemic inequalities. Learn about a new book that provides inspiration and action steps for reinventing how we tackle hunger in the U.S. The key is shifting our focus from a lack of food to strategies that build empathy, equity, and political will.
• Katie Martin, PhD, is the Executive Director of the Institute for Hunger Research & Solutions at Connecticut Food Bank-Foodshare. She is recognized as a thought leader on food security issues, and has over 25 years of experience developing and evaluating holistic solutions to hunger. Katie is the author of "Reinventing Food Banks and Pantries: New Tools to End Hunger"
Music by CommUnity Voices
---
Sunday, May 23 at 11 a.m.:
"The Sweet Chariot Music & Arts Festival"
The Sweet Chariot Music and Arts Festival is a wild gaggle of songwriters, musicians, divas and divos, poets storytellers and artists who meet for a week each summer on an island off the Maine Coast and deliver three nights of inspiration to a rapt audience in the funkiest hall you've ever stepped into. They've been doing this for over 30 years, and keep coming back for more, except when a virus requires an involuntary sabbatical. Now they're rarin' to go, and will give you a sneak preview, in celebration of one of their member's birthday (Dean), and in fond memory our beloved Kathleen Dinan. Join us!
Music by Eric Kilburn, Lisa Redfern, Dean Stevens, Ritt Henn, Beth Falcone, Daisy and Stan, Geoff Kaufman, Suzy Williams, John and Rachel Nicholas, David Dodson, Mary Kate Small…and many more….in other words way too many to fit in one service, but who even cares??
---
Sunday, May 30 at 11 a.m.:
"Film: Child's Play"
with Michael Sheridan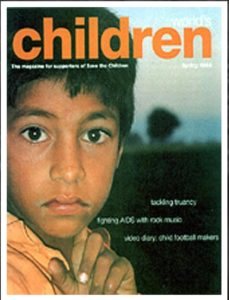 Four children in Sialkot, Pakistan, introduce us to their daily lives and tell us why they work stitching soccer balls. The film argues that to eliminate child labor, viable economic options must be created so that parents can afford not to have their children work. Produced for Save the Children Fund-UK and shown at the United Nation's International Conference on Child Labor and at the British Sports Apparel Industry's annual conference. The film helped change policy and raised 1.2 million dollars for Save the Children's Sialkot program.
• Michael Sheridan is a filmmaker whose videosonic art and documentary work addresses issues of social development and the tipping point between order and chaos. … In the 90s he started traveling the world producing documentaries on issues of hunger, poverty and community development.
---
---
---
Watch last Sunday's service and more
Sunday, May 9 at 11 a.m.:
"Storytellers for a Small Planet"
with Andy Davis, Judith Black and Jackson Gillman
°°°

Sunday, May 2 at 11 a.m.:
"Encore: The Red & Green of May Day"
with Judith Woodruff
music by David Rovics
°°°
Sunday, April 25th at 11 a.m.:
"Conscience of the Radical:
Scott & Helen Nearing's 20th Century Odysseus" with Greg Joly
music by Dean Stevens & Rob Flax

°°°
Sunday, April 18th at 11 a.m.:
"Deadly Secrets, Corporate Corruption
and One Man's Search for Justice" with Carey Gillam
music by Jay Mankita
°°°
Sunday, April 11th at 11 a.m.:
"A Spring Murmuration of Poets" with The Poets' Theatre
°°°
Sunday, April 4th at 11 a.m.:
"Capitalism as Problem, Cooperation as Solution:
An Economics Perspective"
with Richard Wolff
music by Tim Ray & Dan Greenspan
---
January 10 – March 14, 2021 below:
Watch (3/16/21): CCB Virtual Film Screening: Gaza Fights For Freedom
by Filmmaker Abby Martin
Remembering Rachel Corrie on the Anniversary of her Death
Q & A with Abby Martin
***
Due to Covid-19 Community Church of Boston is closed.
Every Sunday lunch or refreshments served after the program.
All Programs are held on the second floor in the Lothrop Auditorium.
Small elevator, wheelchair accessible.
CCB is located near the Orange line-Back Bay or the Green line-Copley T Stops. On Street Parking and at Back Bay Parking Garage, 199 Clarendon Street. Discount Vouchers available for parking in the garage.
Community Church of Boston is located at
565 Boylston Street, 2nd fl., Boston, MA 02116
web: www.communitychurchofboston.org;
email: info@communitychurchofboston.org; tel: 617-266-6710