Sunday Services
From September through June, we have Sunday services for individuals seeking to grow their involvement in a welcoming and family-friendly community fully rooted in justice work. Our 11:00 am Speakers Forum is a time to hear from inspiring and thought-provoking speakers around social justice topics. Music adds a wonderful dimension to the service, and the musicians vary from week to week. We leave time for dialogue with our speaker before gathering at 12:45 pm for lunch.
Membership Sunday
On the first Sunday of each month, we celebrate individuals who wish to become members of Community Church of Boston. We take time during the 11:00 am service when individuals can, as they desire, come forward and sign our Membership Book – a brief yet purposeful ritual symbolizing a commitment not only from the individual to the congregation, but also from the congregation to the individual.
UPCOMING 2020 SERVICES & EVENTS:
---
POSTPONED
Film Screening: Gaza Fights For Freedom by Abby Martin




March 16th, 2020 at 7 pm at CBB



Remembering Rachel Corrie on the Anniversary of her Death
Filmed during the height of the Great March Of Return protests, it features exclusive footage of demonstrations where 200 unarmed civilians have been killed by Israeli snipers since March 30, 2018.
---
POSTPONED
Saturday, March 21 at 7:00 pm


A CCB's 100th Anniversary Event:




Fulani Haynes Jazz Collaborative Concert



Special Concert Location: First Church in Boston
66 Marlborough St.,  (2 Blocks from CCB)

with Fulani Haynes, vocals; Earl Lawrence, Sax & Flute;
Michael Shea, Keyboards, Piano; Alvin Terry, percussion; Cornell Coley, percussion;
Cyril Chapman, saxophone; and Dave Zox, Bass
The musical talent and jazz acumen of vocalist and music director Fulani Haynes has electrified audiences in clubs, cabarets, theaters, and other performance venues in the Boston area for more than four decades. Her depth of musical and theatrical experience has given Fulani a rich foundation to draw upon in performances and collaborations with noted recording artists like Frank Wilkins, Patricia Adams, Hakim Law, and Mike Shea, and in performances for regular folks and nonprofit organizations in her own community.
Fulani's creative drive inspired her own production company, And the Beat Goes On. She performs solo and with Sisters In Harmony, a three woman historical jazz group who sing and transform themselves into the personas of female jazz artists of the 20's, 30's, and 40's. Fulani also sings regionally with Four, a trio of well-known jazz musicians.
Fulani teaches the heritage of jazz in performances in Boston and around the country, where she sometimes leads the audience in impromptu scat sessions. A lifelong resident of Boston, Fulani developed a program for children called "Jazz-A-Ma-Toot-Toot for the Boston Public Schools and various community organizations. This program teaches young people about the rich musical contributions that African American women have made world-wide, and the dues they paid as they paved the way for entertainers today.
In addition to her frequent Sunday participation at The Community Church of Boston, Fulani has also enjoyed a stellar acting career through her work in Black Nativity, Roxbury Outreach Shakespeare Experience, Black Folks Theater, Middle Passage, The Strand and Erlick Theaters, The Wheelock Family Theater, several one-woman shows, and in television commercials.
Tickets: $20
Sliding scale: No one will be turned away, space permitting!
---
ONLINE Service:
Sunday, March 29 at 11:00 am
"Sacco and Vanzetti, Our Patron Saints & Martyr Heroes:
The Story of CCB's First Cause for Justice, 100-Years Ago!"

with David Rothauser, Robert D'Attilio,
Dean Stevens, Judy Walcott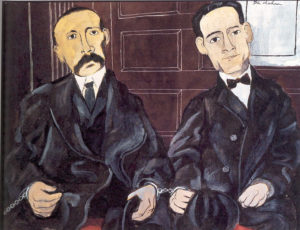 Two Italian anarchists, one a fish peddler, the other a shoemaker, figure large in the history of this, our church. What happened to them 100 years ago, their arrest, trial and conviction, became CCB's first struggle for justice. We look back at the case with two long time students and authorities on Sacco/Vanzetti, Robert D'Attilio and David Rothauser, and reflect from CCB's archival records on the powerful effect this arrest, conviction and execution had on our first hundred years.
music by Tem Blessed & Nadia of Blest Energy
Painting: The Passion of Sacco and Vanzetti,1931-32 by Ben Shahn
Call or log on to Zoom:
Topic: Community Church of Boston
Time: Mar 29, 2020 11:00 AM Eastern Time (US and Canada)
Join Zoom Meeting on Your Computer
https://us04web.zoom.us/j/408310733
Put in the meeting ID number
Meeting ID: 408 310 733
Join Zoom Meeting on Your Phone
One tap mobile
+19292056099,,408310733# US (New York)
+13126266799,,408310733# US (Chicago)
or
Dial by your location
+1 929 205 6099 US
Put in the meeting ID number
Meeting ID: 408 310 733
If you don't see a number in your time zone
Find your local number online here: https://us04web.zoom.us/u/fcBbneteM6
---
ONLINE Service:
check back for details
 Sunday, April 5 at 11:00 am
"One Year After American Exceptionalism & Innocence:
Lessons for Our Movement in the Era of Trump"
with Danny Haiphong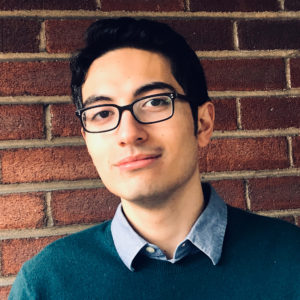 The US is once again consumed by a presidential election cycle. Endless war and austerity dominate the American political landscape. Danny Haiphong will discuss his book "American Exceptionalism and American Innocence: A People's History of Fake News from the Revolutionary War to the War on Terror" and analyze the lessons that we can deduce from it one year after its publishing.
• Danny Haiphong is a contributing Editor to the Black Agenda Report. He is from Cambridge, MA and currently lives in New York City. Haiphong has been in the anti-war and labor movements for ten years in various capacities. His articles have been featured in a range of independent media outlets such as the American Herald Tribune, TruthOut, and CounterPunch.

music by Alastair Moock
is a GRAMMY-nominated American folk and family music performer from Boston, Massachusetts. He is known for his gruff voice, playful lyrics, and fingerpicking guitar style.
---
Sunday, February 26
"Chinese New Year Celebration"
with Duncan McFarland & Mary Klug
Music by Traditional Chinese music master Zhantao Lin
If you missed the program you or would like to experience it again,
you're able to see it here:
Every Sunday lunch or refreshments served after the program.
All Programs are held on the second floor in the Lothrop Auditorium.
Small elevator, wheelchair accessible.
CCB is located near the Orange line-Back Bay or the Green line-Copley T Stops.
On Street Parking and at Back Bay Parking Garage, 199 Clarendon Street.
Discount Vouchers available for parking in the garage.
Community Church of Boston is located at
565 Boylston Street, 2nd fl., Boston, MA 02116
web: www.communitychurchofboston.org;
email: info@communitychurchofboston.org; tel: 617-266-6710