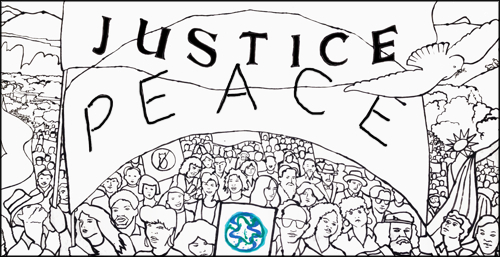 The Community Church of Boston is a free community united for the study and practice of universal religion, seeking to apply ethical ideals to individual life and the democratic and cooperative principle to all forms of social and economic life. We invite you to read on to discover more about us, join us one Sunday for a thought-provoking and joyful time, or contact the church to find out more about our community: info@communitychurchofboston.org
THIS WEEK AT COMMUNITY CHURCH
Every Wednesday: Boston Alliance of Gay Lesbian Bisexual Transgender Youth (BAGLY), in the Lothrop Auditorium at 5pm
---
Monday, August 26th at
Community Church of Boston


7:30pm-10:30pm
Miko Peled:


"Trump/Netanyahu Era:
The Prospects for Peace"
We are VERY honored to have the opportunity to host Miko Peled at our humble Community Church of Boston forum. This is one of our generation's most eloquent voices against the Apartheid Israeli Colonial Enterprise. Miko has become a much sought after speaker and lecturer on the subject of Palestine/Israel. His Youtube video lectures garner gazillions of views. His activist work on behalf of the Palestinian people is extraordinary.
Miko Peled is the author of "The General's Son", an autobiographical journey of his family's transition from architect of the Israeli experiment (his late father was a prominent general in the formation of the State of Israel), to a chief critic of same. Miko's upcoming book studies the case of The Holy Land Foundation Five.
Here is what Alice Walker said about Miko Peled in the foreword she wrote for his book, "The General's Son":
What is the prevailing feeling, having read this moving book, given how determined our testosterone driven world seems to be to make continuous, endless war, and, perhaps, to blow all of us up in one? I feel immense relief, and gratitude. Someone(s) must take responsibility for being the grown-ups of our human Universe. There must be people, in all walks of life, who decide: enough's enough; there are children here.
Miko Peled, at first terrified of reaching out to Palestinians because of the false reports he was, since childhood, given of them, realizes the insanity of remaining enemies of a people he has had no opportunity to truly know. What he discovers energizes and encourages him. He begins to understand the danger inherent in living in ignorance of the so-called other and begins to realize he would be a far different, a far less open and loving person, had he not, despite his fears, freed himself in this way. His freedom to be at ease with the very people he was taught to hate is, of course, a bonus for his own children and for the next generation of Israelis and Palestinians.
Here is another quote from Alice Walker:
There are few books on the Palestine/Israel issue that seem as
hopeful to me as this one.
Follow Miko's blog at www.mikopeled.com, or for more information about Miko's book go to www.thegeneralsson.com. 
Come early to taste El Salvador's national dish, pupusas (first come first served, $3 each). Beverages will also be served.
Tickets: $20 in advance; $25 at door;
all proceeds to benefit Miko Peled's activist work.
 Coming Sunday at 11 am
Check back later this summer for more Sunday programs starting in September.

---
A recent article published in the New Yorker caught the attention of one of our members: "Break-In at Y-12: How a handful of pacifists and nuns exposed the vulnerability of America's nuclear-weapons sites." We'd like to share it with you below, just click on the image to read it.

---
The congregation of the Community Church of Boston strives to be a wise steward of both financial and natural resources. We are working together with HEET (Home Energy Efficiency Team) to become more energy efficient, which will keep the congregation more comfortable, lower our energy bills and improve the energy efficiency of our building.
---
READ and write reviews about the Community Church of Boston on YELP
WRITINGS BY CCB MEMBERS & FRIENDS
Remembering Hiroshima with Consideration for its Current and Future Implications  by Virginia Pratt
A Eulogy for Hank Faunce by Edward Beuchert
Agelessness, Ageism, And Aging by Mary Lynn Cramer
The Limits of Liberal Rhetoric: Profits vs. Jobs by Mary Lynn Cramer
It's Time to Recall the Sub-prime Loans by Virginia Pratt
BOSTON AREA RESOURCES
For listings of regional peace and justice events, see the Act-MA list, the AFSC Weekly Calendar, Boston Indymedia, United for Justice and Peace, Massachusetts Bay District of Unitarian-Univeralist Churches' Programs and Events, and Jobs with Justice's Workers Rights Calendar;  Centro Presente (Somerville), the Democracy Center (Cambridge), Encuentro 5 (Chinatown),  Lucy Parsons Center (Jamaica Plain) and Spontaneous Celebrations (Jamaica Plain) also publish a 'calendar of events' hosted at their respective community spaces.
The Community Church of Boston has also compiled a Homeless and Low Income Resource Guide 2016 for those in need.