Sunday Services
From September through June, we have Sunday services for individuals seeking to grow their involvement in a welcoming and family-friendly community fully rooted in justice work. Our 11:00 am Speakers Forum is a time to hear from inspiring and thought-provoking speakers around social justice topics. Music adds a wonderful dimension to the service, and the musicians vary from week to week. We leave time for dialogue with our speaker before gathering at 12:45 pm for lunch.
Membership Sunday
On the first Sunday of each month, we celebrate individuals who wish to become members of Community Church of Boston. We take time during the 11:00 am service when individuals can, as they desire, come forward and sign our Membership Book – a brief yet purposeful ritual symbolizing a commitment not only from the individual to the congregation, but also from the congregation to the individual.
UPCOMING 2017 SERVICES & EVENTS:
SUNDAY, October 22:
"What Would Gandhi Do?" with Dave Lewit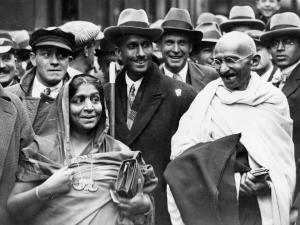 Dave Lewit is a social psychologist and democracy activist with university teaching and research background. Known to some CCB members as editor of BCA Dispatch (see www.newenglandalliance.com), he has organized forums, roundtables, and symposiums for regional autonomy and for broader system transformation. Asked his religion, he has replied "Gandhian".
Music by Coleen Kattau
---
Coming on Monday October 23rd at 7pm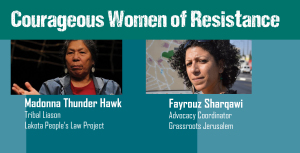 Courageous Women of Resistance with guest speakers: Tribal Liason Lakota People's Law Project, Madonna Thunder Hawk and Advocacy Coordinator Grassroots Jerusalem, Fayrouz Sharqawi
Join us to hear from women who are speaking truth to
power and in doing so, helping to bring enlightenment and
engagement in the struggle to build a better and more
peaceful future.
"When the book is written on the end of Apartheid in South Africa, a most important chapter will be on the role of women in that struggle."
— Govan Mbeke, a co-leader with Nelson Mandela in the ANC resistance movement
The same needs to be said of women throughout the world who with courage and unflagging determination work for justice and human rights in their communities. Women helped to bring clean water to Cheyenne River Reservation in South Dakota, and women were at the forefront of the encampment at Standing Rock, by the contagion of their spirit helping to build an international community of resistance.
Likewise in Israel and Palestine, in the refugee camps in Jordan, Lebanon, Gaza and the West Bank, in organizations such as "Bedouin Women for Themselves" and "Grassroots Jerusalem" women are helping to build a non-violent resistance movement. By refusing to be silenced or compromised by the militarism of settler colonialism, these women are speaking truth to power and in doing so, they are helping to bring enlightenment and engagement in the struggle to build a better and more peaceful future for their children.
For more information click below:
---
SUNDAY, October 29:
"Make a UU Turn!"  with Rev. Edmund Robinson
and Jacqueline Schwab, piano
Halloween is based on the old Celtic New Year celebration of Samhain, when it was said that the veil between this world and the realm of the fairy folk is thinnest. It is a time for turning, as the leaves change and our thoughts turn to winter. What does this have to do with UUs and how we make changes in our lives?
Rev. Edmund Robinson has been minister of the Unitarian Universalist Meeting House in Chatham, at the "elbow" of Cape Cod, for nine years, and served three other congregations before then.   Prior to entering the ministry, Rev Robinson was a trial lawyer in South Carolina and Boston.  He has two adult children from a previous marriage, and has been married to Jacqueline Schwab for the past seventeen years.
Music by Jacqueline Schwab 
Pianist Jacqueline Schwab spins musical stores in her flowing, signature style that is hard to categorize but easy to recognize. Her distinctive, heartfelt playing infuses the sound tracks of Ken Burns' Grammy-winning Civil War, Baseball, Lewis and Clark, Mark Twain, The War, The National Parks, among others. Critic Scott Alarik wrote that she has "… an uncanny sensitivity to the moods and proprieties from other eras." She has performed at the White House for President Clinton, and, with Scottish singer Jean Redpath, on public radio's A Prairie Home Companion and on CBS' Late Show with David Letterman. She graduated from the New England Conservatory in Boston, majoring in piano improvisation. She is married to Rev. Edmund Robinson and lives on Cape Cod.
---
---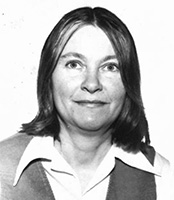 Lorraine Roth; A Celebration and
Remembrance
We note with sadness and fond memory, the passing of our long time member, Lorraine Roth (Blake). She was 93. Lorraine was born in Brooklyn NY, on February 27th, 1924, to Michael Blake and Lillian Heitmann. She graduated from Brooklyn College with a Bachelor's degree in science, and went to work at Rockefeller Institute. While visiting the village of Woods Hole, MA, she met her future husband, Jay S. Roth, and they married in 1951. Though she left her job to start a family, she retained a lifelong interest in science, particularly in genetics and evolutionary biology. She was an avid choral singer, folk dancer, and tennis player. An anti-war activist, she took to the streets in protest during the Vietnam war, often traveling long distances to make her voice heard. She was a strong supporter of animal rights, and was a founding member of the Coalition to End Animal Suffering and Exploitation in 1979, in Boston, MA. Lorraine was a member of the Community Church of Boston for many years, and served on its board.
Donations on lieu of flowers can be made in
Lorraine's memory to People for the Ethical Treatment of Animals (PETA)
or the MSPCA-Angell.
---
Every Sunday Lunch served after the program.
All Programs are held on the second floor in the Lothrop Auditorium.
Wheelchair accessible.
CCB is located near the Orange line-Back Bay or the Green line-Copley T Stops.
On Street Parking and at Back Bay Parking Garage,  199 Clarendon Street.
Discount Vouchers available for parking in the garage.
Community Church of Boston is located at
565 Boylston Street, 2nd fl., Boston, MA 02116