Sunday Services
From September through June, we have Sunday services for individuals seeking to grow their involvement in a welcoming and family-friendly community fully rooted in justice work. Our 11:00 am Speakers Forum is a time to hear from inspiring and thought-provoking speakers around social justice topics. Music adds a wonderful dimension to the service, and the musicians vary from week to week. We leave time for dialogue with our speaker before gathering at 12:45 pm for lunch.
Membership Sunday
On the first Sunday of each month, we celebrate individuals who wish to become members of Community Church of Boston. We take time during the 11:00 am service when individuals can, as they desire, come forward and sign our Membership Book – a brief yet purposeful ritual symbolizing a commitment not only from the individual to the congregation, but also from the congregation to the individual.
UPCOMING 2018 SERVICES & EVENTS:
SUNDAY, December 23 at 11 am

:
"Embrace the Dark; Reach for the Light!: Solstice Magic"
featuring Lorraine and Bennett Hammond & CommUnity Voices
Join Boston's legendary musicians,  wise and beloved sage/bards and community builders Bennett and Lorraine Hammond,
as they take us through a journey through the solstice and its variety of meanings in the rainbow of cultures on this planet.  Accompaniment by CommUnity Voices!
Bring your best potluck holiday offering and holiday stories to share. Tamales by Luis Alonzo Guzmán!
---
SUNDAY, December 30 at 3 pm

:
"Singing in the New Year"
singalong with CommUnity Voices & Constellations
Ring it in; Ring Them Bells; Forever Young; Julian of Norwich; Get Together; When the Revolution Comes; Swimming to the Other Side; New Lang Syne; Give Light,
Teach Peace; By the Rivers of Babylon; Side by Side; Ours is a Simple Faith; God Bless the Grass; How can I Keep From Singing…..AND WHATEVER OTHER SONG YOU WANT TO SING WITH US (let us know, we'll learn it!) Singing at Community Church of Boston with CommUnity Voices, Constellations and you!! Your holiday potluck offerings will augment Luis' dishes. Adult beverages/libations allowed just this once.
---
SUNDAY, January 6 at 11 am

:
"#DeeperThanWater: Toxic Prisons & Abolition"
with Adrian Coleman and Elizabeth Rucker
 #DeeperThanWater works to hold the state accountable for the toxic environments and inhumane practices of MA prisons. We will discuss our work to uplift the voices of current and former prisoners while tackling the issue of toxic prisons from an abolitionist perspective.
• Adrian Coleman is a member of the #DeeperThanWater core team and brother to Wayland "X" Coleman, a founding incarcerated member of #DTW. Adrian has been organizing and advocating for Wayland's fair treatment and release for 20 years.
• Elizabeth "Ruckus" Rucker is a member of the #DeeperThanWater core team, representing SURJ Boston (a multiracial organization mobilizing white people against white supremacy).
Rockin' Blues by Chris James
---
SUNDAY, January 13 at 2 pm

:
"Red-Greem Revolution:
The Politics and Technology of Ecosocialism"
with Victor Wallis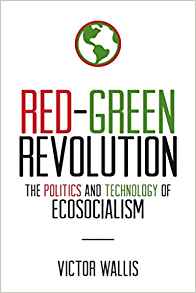 Addressing the environmental crisis is inseparable from working to build socialism. This presentation is based upon Victor Wallis's new book, Red-Green Revolution:
The Politics and Technology of Ecosocialism and will focus on re-assessing human needs, identifying requisite technologies & institutional structures,
and exploring ways to link environmental activism with other progressive struggles.
• Victor Wallis teaches in the Liberal Arts Dept. at the Berklee College of Music. He was for twenty years the managing editor of "Socialism and Democracy."
He is the author of many articles, columns, encyclopedia articles, and book-chapters on a wide range of political topics.
His writings have been translated into thirteen languages. Books will be available for purchase.
Planetary Eco-Tunes by Dean Stevens
---
SUNDAY, January 20 at 11 am

:
"from nigger to colored to negro to black to Afro then African-American andright back to nigger or how we made blackness so irresistible that they tried to take it away from us: A Cultural Reflection on Living The Dream"
with Harold Steward
 Using ntozoke shange's spell #7, Talib Kweli's For Women, Arthur Jafa's Love is the Message, The Message is Death and Dr. King's Letter from Birmingham Jail this sermonette explores the relationship between Identity Reclamation, Liberation, and Resistance.
• Harold Steward is the Interim Executive Director of The Theater Offensive, a Queer and Trans Theater based in Boston, MA. Most recently, Steward served as Manager of the South Dallas Cultural Center, a division the City of Dallas Office of Cultural Affairs, which provides instruction and enrichment in the arts with an emphasis on the African contribution to world culture. Steward also founded Fahari Arts Institute in Dallas in 2009 after recognizing a gap in the landscape for local LGBTQ artists of color in Dallas. Fahari Arts Institute celebrates, displays and produces the work of queer artists from the African Diaspora.
Fulani Haynes, vocals & Michael Shea, piano
---
Every Sunday lunch or refreshments served after the program.
All Programs are held on the second floor in the Lothrop Auditorium.
Small elevator, wheelchair accessible.
CCB is located near the Orange line-Back Bay or the Green line-Copley T Stops.
On Street Parking and at Back Bay Parking Garage, 199 Clarendon Street.
Discount Vouchers available for parking in the garage.
Community Church of Boston is located at
565 Boylston Street, 2nd fl., Boston, MA 02116