Sunday Services
From September through June, we have Sunday services for individuals seeking to grow their involvement in a welcoming and family-friendly community fully rooted in justice work. Our 11:00 am Speakers Forum is a time to hear from inspiring and thought-provoking speakers around social justice topics. Music adds a wonderful dimension to the service, and the musicians vary from week to week. We leave time for dialogue with our speaker before gathering at 12:45 pm for lunch.
Membership Sunday
On the first Sunday of each month, we celebrate individuals who wish to become members of Community Church of Boston. We take time during the 11:00 am service when individuals can, as they desire, come forward and sign our Membership Book – a brief yet purposeful ritual symbolizing a commitment not only from the individual to the congregation, but also from the congregation to the individual.
UPCOMING 2018 SERVICES & EVENTS:
SUNDAY, September 23 

at 11 am:
MEMBERS ONLY

Congregational Meeting

 

Music by CommUnity Voices
---
SUNDAY, September 30 

at 11:00 am:
"War and Peace in the Age of Trump"

Award-winning author and foreign correspondent
Stephen Kinzer will join us.
Stephen Kinzer is an award-winning foreign correspondent who has covered more than 50 countries on five continents. He writes a world affairs column for the Boston Globe and teaches international relations at Brown University.
---
SUNDAY, Oct. 7

:
"Recent Developments in Civil Rights, Racial Justice & Immigrants' Rights"
with Ivan Espinoza-Madrigal

This talk will focus on the Lawyers' Committee for Civil Rights and Economic Justice recent work.  We filed the first lawsuits in the country against the Trump Administration to protect sanctuary cities; to save Temporary Protected Status (TPS) on behalf of Haitians and Central American immigrants; and to block immigration arrests in courthouses.
Iván Espinoza-Madrigal is the Executive Director of Lawyers' Committee for Civil Rights and Economic Justice. Under his leadership, the organization has become a hub for litigation, advocacy, and resistance in response to the current climate. Iván has filed and won dozens of life-changing and law-changing cases on a wide range of civil rights issues, including racial justice, immigrants' rights, and LGBT/HIV equality.
---
SUNDAY, Oct. 14

:
"Kafka in Palestine"  by Inez Hedges
(a play reading)
 "Kafka in Palestine" is an imaginative retelling of the friendship between Franz Kafka and his sister Ottla in the early 20th century. They dream of escaping their authoritarian father by moving to the idealized Palestine they have read about in the writings of the Zionist visionary Theodore Herzl. But reality intervenes (Franz's fatal illness, Ottla's deportation to the concentration camp of Terezin) until the siblings are magically reunited in the troubled landscape of the modern era. There they have to deal with the ongoing struggle between Israelis and Palestinians over land and human rights.
Inez Hedges likes to bring important issues to the stage in order to facilitate reflection and discussion. Previous plays have dealt with the deportation and murder of Jews during the German occupation of France, and French resistance fighters. Inez lives in Somerville, Mass., is a Northeastern Univ. professor emerita, and a resident scholar at the Brandeis Univ. Women's Studies Research Center.
---
SUNDAY, Oct. 28 

at 2 pm: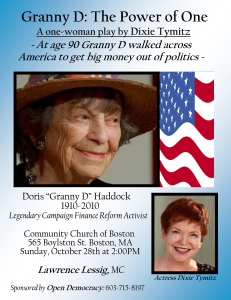 ---
Every Sunday lunch or refreshments served after the program.
All Programs are held on the second floor in the Lothrop Auditorium.
Small elevator, wheelchair accessible.
CCB is located near the Orange line-Back Bay or the Green line-Copley T Stops.
On Street Parking and at Back Bay Parking Garage, 199 Clarendon Street.
Discount Vouchers available for parking in the garage.
Community Church of Boston is located at
565 Boylston Street, 2nd fl., Boston, MA 02116