Sunday Services
From September through June, we have Sunday services for individuals seeking to grow their involvement in a welcoming and family-friendly community fully rooted in justice work. Our 11:00 am Speakers Forum is a time to hear from inspiring and thought-provoking speakers around social justice topics. Music adds a wonderful dimension to the service, and the musicians vary from week to week. We leave time for dialogue with our speaker before gathering at 12:45 pm for lunch.
Membership Sunday
On the first Sunday of each month, we celebrate individuals who wish to become members of Community Church of Boston. We take time during the 11:00 am service when individuals can, as they desire, come forward and sign our Membership Book – a brief yet purposeful ritual symbolizing a commitment not only from the individual to the congregation, but also from the congregation to the individual.
UPCOMING 2018 SERVICES & EVENTS:
 

SUNDAY, March 24 at 11 am

:
"Stop the Next War Now: Speaking Truth About Power in a Permanent Warfare State"

with Kathy Kelly
Drawing from experiences living alongside Afghans in the Afghan Peace Volunteer community and from recent studies regarding U.S. complicity with human rights violations and war in Yemen, Kathy will assert that one way to stop a "next" war is to continue telling the truth about wars the U.S. is already waging.
• Kathy Kelly co-coordinates Voices for Creative Nonviolence, a campaign to end military and economic violence.  She has visited Afghanistan 15 times since 2010. Voices activists believe that where you stand determines what you see. In previous visits to Iraq, they remained in Baghdad throughout the shock and awe bombing after having organized 70 delegations to violate the economic sanctions by delivering medicines to children and families in Iraq.  On January 23, 2015, Kelly began serving a 3-month prison sentence for attempting to deliver a loaf of bread to the commander of Whiteman Air Force Base where weaponized drones are used to attack people in Afghanistan and other countries.
music by CommUnity Voices
---
MONDAY, March 25 at 7 Pm:
"WHERE THE GUNS GO"
with Maria Termini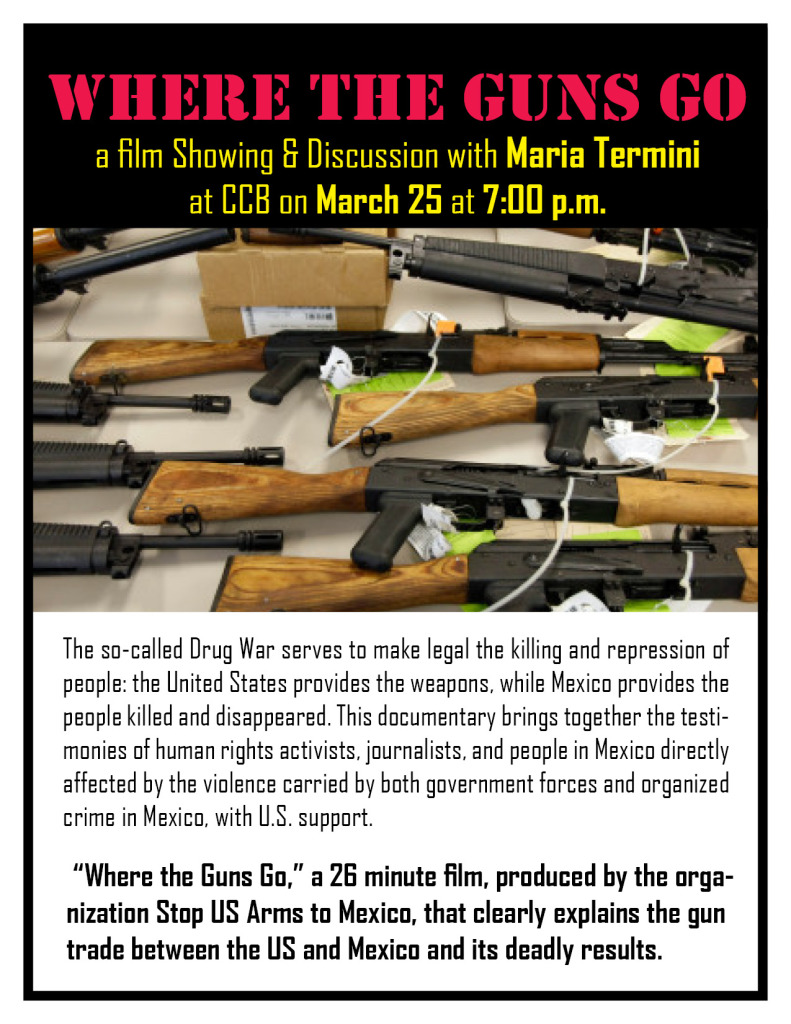 ---
SUNDAY, March 31 at 11 am

:
"Parole in Massachusetts:
Why We Need More Second Chances"
with Jean Trounstine
The longer we keep people behind bars, the more we continue to fuel the engine of mass incarceration. Why then, is Massachusetts not paroling more people and supporting them to stay out of prison? What are the ways we could improve our ailing parole system? We must demand that more men and women serve the remainder of time in their communities?
• Jean Trounstine is an activist, author, and professor emerita at Middlesex Community College in Lowell, Massachusetts whose most recent book "Boy With A Knife: A Story of Murder, Remorse, and a Prisoner's Fight for Justice" explores the true story of Karter Kane Reed and the injustice of sentencing juveniles to adult prisons. Trounstine worked at Framingham Women's Prison for ten years where she directed eight plays with prisoners. Her highly-praised book about that work, "SHAKESPEARE BEHIND BARS: The Power of Drama in a Women's Prison" has been featured on NPR, The Connection, Here and Now, and in numerous print publications here and abroad. In addition, she has spoken around the world on women in prison, co-founded the women's branch of Changing Lives Through Literature, an award-winning alternative sentencing program featured in The New York Times and on The Today Show, and co-authored two books about the program. Trounstine is on the steering committee of the Coalition for Effective Public Safety (CEPS) in Massachusetts. She takes apart the criminal justice system brick by brick for magazines and blogs such as Boston Magazine, Truthout.org, Alternet, and Huffington Post.
Anne Chamberlain, piano & Hannah Thomas, cello
---
SUNDAY, April 14 at 11 am

:
(Jan. 20th service rescheduled)
"From the N word to colored to negro to black to Afro then African-American and right back to the N word or how we made blackness so irresistible that they tried to take it away from us:
A Cultural Reflection on Living The Dream"
with Harold Steward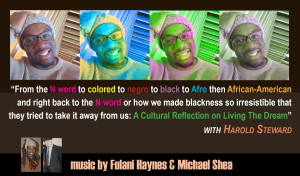 Using Ntozoke Shange's "Spell #7″, Talib Kweli's "For Women", Arthur Jafa's "Love is the Message, the Message is Death" and Dr. King's "Letter from Birmingham a Jail", this sermonette explores the relationship between identity reclamation, liberation, and resistance.
• Harold Steward is the Interim Executive Director of The Theater Offensive, a Queer and Trans Theater based in Boston, MA. Most recently, Steward served as Manager of the South Dallas Cultural Center, a division the City of Dallas Office of Cultural Affairs, which provides instruction and enrichment in the arts with an emphasis on the African contribution to world culture. Steward also founded Fahari Arts Institute in Dallas in 2009 after recognizing a gap in the landscape for local LGBTQ artists of color in Dallas. Fahari Arts Institute celebrates, displays and produces the work of queer artists from the African Diaspora.
Fulani Haynes, vocals & Michael Shea, piano
---
In Memoriam
Karl Jones
Karl Jones and friends at the 2013 CCB Picnic.
We note, with sadness, the passing of Karl Jones, our long time faithful member and stalwart radical. Karl was a mechanic for the T, and a union organizer. His mind was slowly taken from us by the dementia of age, and he spent his last several years in nursing facilities. Karl, in his last lucid years, was the faithful Sunday chauffeur for that marvelous coterie of ladies in their eighties and nineties (Ruth, Dorrit, Gwen, Julia) who loved our church until their final days.. He will be missed.
We will celebrate Karl Jones' life at a Memorial Remembrance at
Community Church on
Sunday, March 10, at 3 PM. Join us!
---
Every Sunday lunch or refreshments served after the program.
All Programs are held on the second floor in the Lothrop Auditorium.
Small elevator, wheelchair accessible.
CCB is located near the Orange line-Back Bay or the Green line-Copley T Stops.
On Street Parking and at Back Bay Parking Garage, 199 Clarendon Street.
Discount Vouchers available for parking in the garage.
Community Church of Boston is located at
565 Boylston Street, 2nd fl., Boston, MA 02116