Sunday Services
From September through June, we have Sunday services for individuals seeking to grow their involvement in a welcoming and family-friendly community fully rooted in justice work. Our 11:00 am Speakers Forum is a time to hear from inspiring and thought-provoking speakers around social justice topics. Music adds a wonderful dimension to the service, and the musicians vary from week to week. We leave time for dialogue with our speaker before gathering at 12:45 pm for lunch.
Membership Sunday
On the first Sunday of each month, we celebrate individuals who wish to become members of Community Church of Boston. We take time during the 11:00 am service when individuals can, as they desire, come forward and sign our Membership Book – a brief yet purposeful ritual symbolizing a commitment not only from the individual to the congregation, but also from the congregation to the individual.
UPCOMING 2018 SERVICES & EVENTS:
FRIDAY, Oct. 19 at 7:30 pm:
David Cay Johnston, a Pulitzer prize/winning investigative reporter, has covered Donald Trump for more than 30 years, longer than any other journalist. Last year he published part of Trump's 2005 tax return. In 1990 Johnston broke the story that Trump was no billionaire.
Johnston wrote the international bestsellers The Making of Donald Trump (2016) and It's Even Worse Than You Think (2018) and five other books.
At age 19 he became a front page staff writer at the San Jose Mercury and went on for 40 years to uncover scandals for the Detroit Free Press, Los Angeles Times, Philadelphia Inquirer and The New York Times. He is now editor-in-chief of DCReport.org, a nonprofit news service.
Join CCB for an evening with David Cay Johnston.
Limited Seating • Tickets Available at brownpapertickets.com
---
SUNDAY, Oct. 21 at 11:00 am

:
"The Continued Colonization of Puerto Rico"
with Jasmine Gomez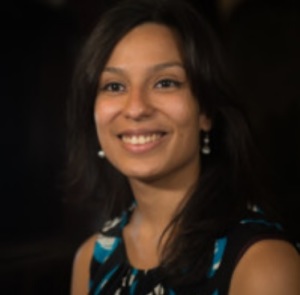 Jasmine will discuss the history of political inequality and corporate dominance in Puerto Rico. Drawing from that history, Jasmine will show correlations that explain why the U.S.'s lack of response to Hurricane Maria and the financial crisis is unsurprising. Jasmine will then discuss how to currently support Puerto Rican people. • Jasmine Gomez is a queer, Puerto Rican attorney and organizer.
Music by Boston Music Award-winning Pan-Latin ensemble Sol y Canto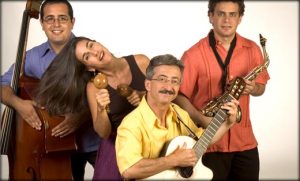 ---
SUNDAY, Oct. 28 

at 2 pm:
(Service starts at 2:00 PM – No 11:00 AM Service)
"Grannie D: The Power of One"
a play performed by Dixie Tymitz, mc'd by Lawrence Lessig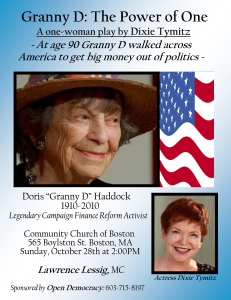 Dixie Tymitz will portray legendary campaign reform finance activist Granny D "Doris Haddock" who in 1988 at the age of 90 walked across America. She was willing to give her life for what she believed in, walking from California through dessert and blizzard conditions to Washington D.C. to get big money out of politics.
Refreshments served after the play.
---
Special Program!!


SUNDAY, Oct. 28 

at 4:30 pm:
Gary Dotterman, the former director of the CME, currently lives in Minas Gerais, Brazil. The region boasts the largest concentration of industrial workers in the Western Hemisphere, including the biggest integrated steel plant and massive mines. With Brazil in economic and political crisis, the Communist Party of Brazil (PCdoB) is organizing, and running candidates.
Gary W. Dotterman was a UMass-Boston political science professor and Communist Party USA member. As a youth Dotterman joined the Tulsa NAACP Youth Council and the local CORE. Dotterman who is from Tulsa Oklahoma served three tours in Vietnam. In 1966 Dotterman was involved in the Oklahoma Vietnam Veterans Against the War and worked on political campaigns in Oklahoma for George Nigh, Fred R. Harris and J. Howard Edmundson. Dotterman is a founding member of the Massachusetts Communist Party and he is the former  Director of the Center for Marxist Education. He has retired to Brazil with his husband.
Join us for refreshments after the Granny D play and stay to hear
Gary Dotterman speak about the Brazilian elections and what role the outcome plays globally.
---

SATURDAY, November 3 

at 7:30 pm:
$15 in advance / $20 at the door.
---
SUNDAY, November 4 

at 2 pm:
(Service starts at 2:00 PM – No 11:00 AM Service)
"What's Happening in Syria?"
with Jeff Klein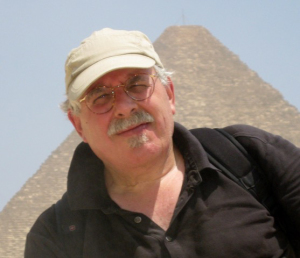 People in the US get a very one-sided view of the war in Syria from the mainstream media.
What is the reality? What do Syrians want?
• Jeff Klein is a retired machinist and local trade-union president active with the anti-war group Dorchester People for Peace and several Palestine solidarity organizations. He is a board member of Massachusetts Peace Action and a leader of its Palestine-Israel Working Group, as well as statewide coordinator of the NEW DAY initiative to change US Policy on Israel Palestine, which focuses on our elected officials. Since 2004 Jeff has traveled almost every year to Palestine/Israel and elsewhere in the Middle East, most recently, including Syria in 2016 and 2018.
Music by CommUnity Voices
---
SUNDAY, November 18 

at 2 pm:
(Service starts at 2:00 PM – No 11:00 AM Service)
"The Boston Abolitionists"
a play performed by the Poets' Theatre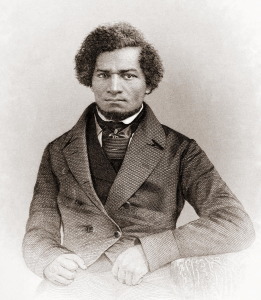 2:00 p.m. Service (No 11 a.m. service): An ensemble of skilled actors from the Poets' Theatre give voice to the wide range of anti-slavery attitudes in Massachusetts during the decades leading up to the Civil War. Black and white, female and male, well-known and obscure, these important writers and orators, including Lydia Maria Child, Paul Cuffee, Frederick Douglass, and Angelina Grimké Weld, among others, transformed fringe ideas—rejected by many in Boston as dangerous and "fanatical"—into a mainstream movement for emancipation.  • Performers: David Gullette is (Playwright) Professor Emeritus of English at Simmons College and Literary Director of the Poets' Theatre; Dayenne C. Byron Walters is a dancer/choreographer and vocalist; Vincent Ernest Siders is an actor, director, producer, and educator; and Amanda Gann is an actor and playwright.
For more information about the Poets' Theatre go to their website.
Watch an interview with members of the Poets' Theatre 
---
Every Sunday lunch or refreshments served after the program.
All Programs are held on the second floor in the Lothrop Auditorium.
Small elevator, wheelchair accessible.
CCB is located near the Orange line-Back Bay or the Green line-Copley T Stops.
On Street Parking and at Back Bay Parking Garage, 199 Clarendon Street.
Discount Vouchers available for parking in the garage.
Community Church of Boston is located at
565 Boylston Street, 2nd fl., Boston, MA 02116